50th Annual Railroad Days
Hinton, West Virginia
Downtown
October 15, 16 & 22, 23
10am-4pm each day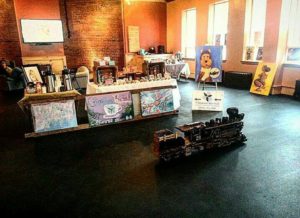 Come out the 3

rd

and 4

th

weekend in October to Railroad Days in Hinton's National Historic District. Every year Hinton's Railroad Museum holds a festival celebrating trains and fall!
New River Train gives a ride these 4 days from Huntington, through the "Grand Canyon of the East", all the way to Hinton. It's a great way to see fall at its peak time. There will be tons of crafts, quilts, food, and live music. The museum has their entire 2

nd

floor dedicated to many, many electric trains, plus lots more entertainment for everyone, including carriage rides through beautiful downtown!
We will be located on the corner of 3

rd

and Temple (INSIDE the old bank), along with a few local vendors. There will be art, Italian ice, apples, primitive Christmas Ornaments, refreshments, and drinks. Also, take note we will have a restroom, and tables and chairs to relax those feet.
Last year was a great turnout, and the weather looks to be dry and warm! We couldn't be more excited!
So come on out. Support local businesses and get active in the community! Come see why I have absolutely fallen in love with this wonderful river town, Hinton.