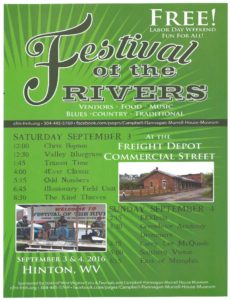 –Freight Depot–Hinton, WV–
September 3 & 4th 2016
FREE FOR ALL AGES
This year JLLM will be participating in the Festival Of The Rivers. A Festival put on every year, FREE to the public by the Campbell-Flannagan-Murrell-House Museum.
Lots of vendors, music, food, and fun!
Festival of the Rivers will be held Labor Day weekend, at the Freight Depot, September 3 & 4th. Come on out! It is sure to be a great time!
Contact 304-445-5769 For more information.
Line Up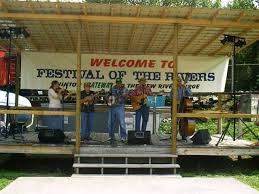 SATURDAY SPETEMBER 3rd
12:00–Chris Hopson (lead singer of East of Memphis)
12:30–Valley Bluegrass
1:45–Transit Time
4:00–4Ever Classic
5:15–Odd Numbers
6:45–Illusionary Field Unit
8:30–The Kind Thieves
SUNDAY SPETEMBER 4th
2:15–Ekklesia
3:30–Greenbrier Academy Drummers
4:15–Corey Lee McQuade
5:00–Southern Virtue
6:15–East of Memphis